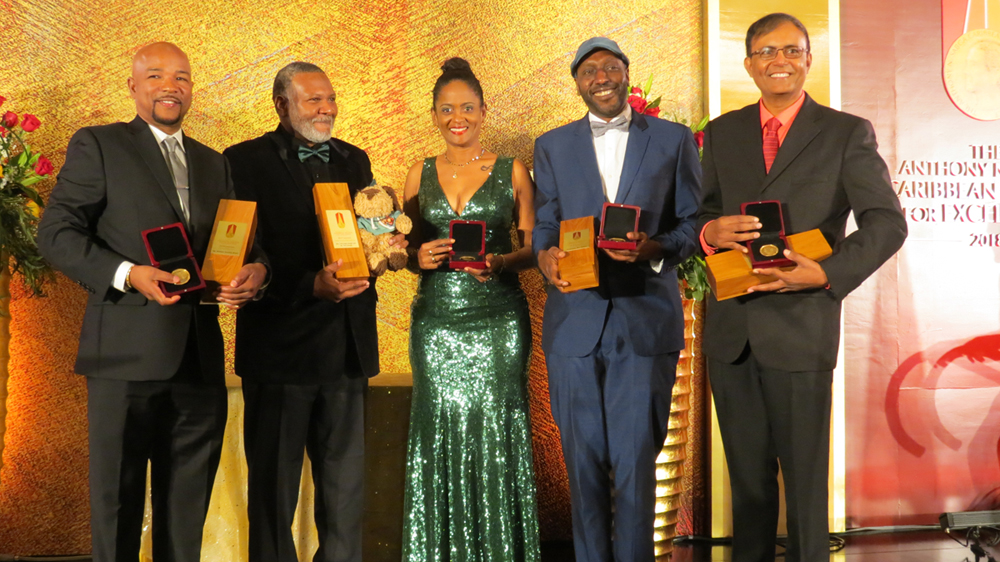 On December 12 this year, at exactly 10 in the morning, the eager EML staff were nailed on their computers waiting for the announcement of the names of the 2018 Laureates for The 2018 Anthony N Sabga Caribbean Awards for Excellence.
When the name WILLIAM ANDREW BOYLE was called as the Entrepreneur Laureate of the year, the laboratory erupted with cheers as if the West Indies had won a much talked about cricket match!
Besting all other candidates in the region, "Andy" as he is popularly known was beaming with coined pride and humility as he went around hugging his staff. The joy of triumph was so contagious that minutes later Andy's pictures were all over FB, getting thousands of congratulatory remarks.  Andy and his staff could have not been happier.
When asked about how he feels about the award, he, with defined exuberance, proclaimed: "I am on cloud nine, deeply honoured. The most important part is that I feel so happy because I've come this far from my humble beginnings. It's a deep feeling of accomplishment. Not that I will behave as though I've arrived but I feel vindicated."
Andy was born in Haraculi (also called Good Hope), in the Kimbia village fringed by the Berbice River. The bush was his playground and the river, his daily route for every activity that he needed to attend. From his simple home, he had to paddle a canoe with his siblings to attend primary school.
These daily journeys of his youth, and all the struggles attached to being of some indigenous origin, had challenged the young Andy to dream.  And dream he did, with the principle "sky is the limit" . Since then, there was no looking back.
Now, he said he felt "vindicated", but not in a vengeful way.  He feels vindicated from poverty which he turned into opportunity; from suffering which helped him see compassion; and from the "derogative labels/call names" which he turned into stepping stones. Andy has been tested by the seasons.
With the award, Andy dreams to give back to his village by establishing some projects which he hopes to help alleviate his people's living conditions. With his business engagements in solar energy, medical laboratory science, and agri-business, the possibilities for development are immense.
At EML, the well loved CEO exudes positivism without compare. He is a living example of a leader who manages by listening. His compassionate attitude humbles everyone. Despite his busy schedule he takes time to listen to his staff and has constantly challenged them for innovative ideas. He has a team that supports his vision. No doubt, Eureka has always blazed the trails.
How his humble beginnings helped him? He puts it in the simplest way: "I guess I learnt humility, to respect persons, regardless of their status in life. My word is my bond. To be courteous and I guess to be positive. Those are things I may have learnt along the way."
After all the cheering and mini-celebrations, the EML staff on December 12 were back to their work: all in high spirits. In their hearts, they know they have found a treasure by working hard for a man they don't call a boss. They simply call him ANDY whose humble beginnings have become their own source of inspiration.